December 16, 2022
Join us as we celebrate the birth of Jesus on Christmas Eve at 6:00 pm for a candlelight service. Special music will begin at 5:30 pm. On Christmas Day there will be a "come as you are" service at 10 am. Come enjoy this season with OSLC.

The semi annual congregational meeting will be held on January 29, 2023, after the 10 am service. At this meeting, we will be considering a new Gift Policy, a change to the by-laws regarding the Gift Policy, a change in the By-laws regarding the Audit Committee and the budget along with other church business. The OSLC constitution states that any changes in the by-laws need to be posted at least 30 days before the meeting. Review the documents by clicking on the blue links above.
September 5, 2021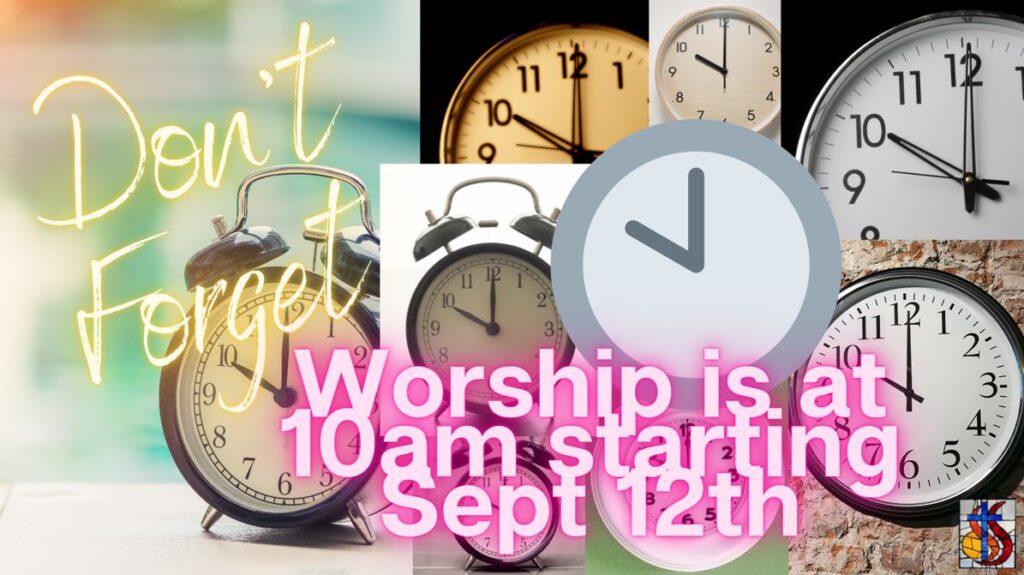 March 9, 2021
We are happy to be able to report to you that we now have a plan for resuming in-person worship. This plan has received the approval of our Executive Council and so we are moving forward with it. The first weekend that in-person worship will be offered will be Palm Sunday weekend, March 27 and 28. That weekend we'll begin to offer both a 5 pm Saturday worship and a 9 am Sunday worship. Both services will include Holy Communion. Please note that we will continue to practice social distancing and the wearing of masks at these in-person services. In addition, we will be livestreaming our Sunday morning services for those who would prefer to continue to worship at home for the time being. Please be aware that livestreamed services may not be available as a recording immediately following the service time, but we hope to have them up and available as soon as possible. Please support our church during this time as you are able. Each Sunday's worship appears on our church's YouTube channel:
https://youtube.com/oursaviorslutheranchurchtopeka
December 16, 2020
Although we had hoped to be able to offer in-person worship for Christmas Eve, in order to comply with county guidelines and in an effort to help everyone stay safe, we are instead going to be offering online worship that night. The Christmas Eve service will premiere on OSLC's YouTube channel at 4 pm on Christmas Eve. This service will include Holy Communion. To make the sharing of Holy Communion feasible for our church, we have ordered some pre-packaged wafer and wine communion cups. Each of the cups is sealed, and will be blessed by Pastor Jim the morning of Christmas Eve. If you would like to participate in Holy Communion that night, you'll need to make a couple of decisions: First, please contact Pastor Jim as soon as possible and let him know you'd like to participate and how many communion cups you're going to need. He can be reached at 266-5313 (church) or at pastorjim@oslctopeka.org. Please contact Pastor Jim by Tuesday, December 22nd. Second, decide how you would like to receive your communion cups. They can be picked up at church the morning of December 24th, from 9 am to noon. If you are unable to get out and would like your communion cups delivered (in the Topeka area, please), let Pastor Jim know. If you are available the morning of Christmas Eve and would like to help deliver communion cups to our members, please let Pastor Jim know that as well. An instruction sheet with prayers will be prepared for those who would like communion but are unable to participate in the online worship that night. Please note that there isn't a grape juice option available, as we only have the cups with wine. Also please note that this plan is dependent on the weather. If there is inclement weather, you will be contacted about delivery/pickup.
November 15, 2020
We are sad to report that due to the uncontrolled spread of COVID-19 in the Shawnee County community, the county has issued an order limiting gatherings to 10 or less. This means we will not be able to have in person services, at least through the end of the order, December 14th. We will continue to make a video service available each week on the OSCL YouTube channel. If the order is rescinded prior to December 14th, we will continue in-person services as usual.
September 2, 2020
Service of Memorial and Lament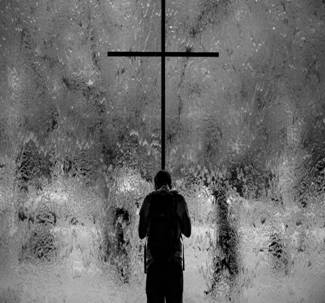 The death toll of COVID-19 continues to grow, surpassing 170,000 people. Those deaths are not just statistics, but children of God. Current projections put the death toll close to 200,000 by the end of September. As we continue to struggle with the impact the pandemic is having on our lives and congregations, the synod is asking everyone to pause and offer prayers of lament and memorial for those lives lost. Leaders from across the synod are collaborating to bring a Service of Lament to the congregations of the Central States Synod through a video worship service. The service will be available for Sunday September 6 to be used in addition to, or in place of your normal worship service. The video will be made available at www.css-elca.org/worship.
---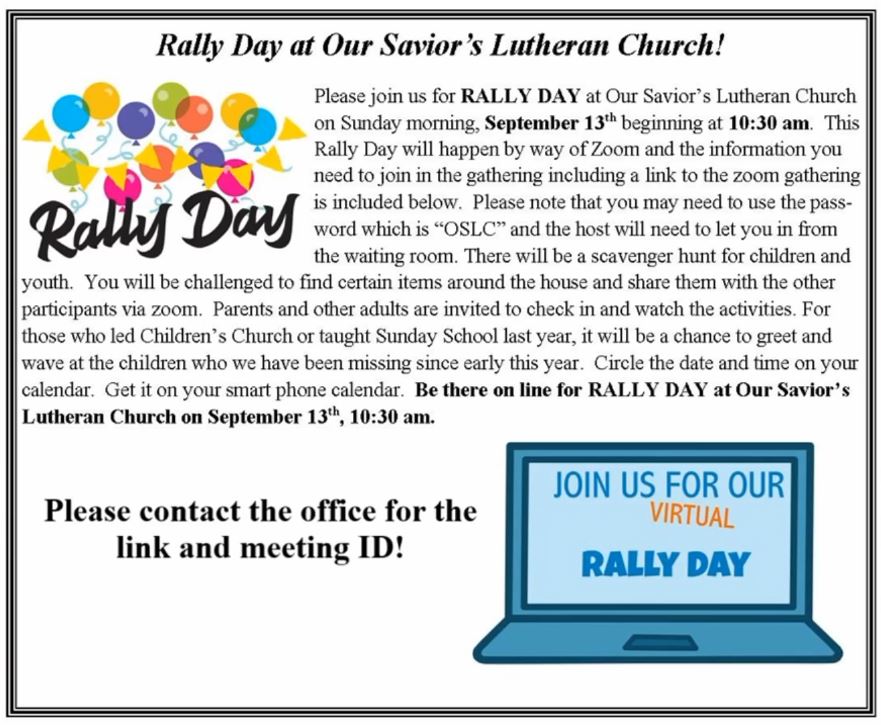 July 5, 2020
What's Happening at OSLC
If you would like a gluten free wafer for communion, please contact Pastor Jim prior to the start of the service.
As you enter the Worship Center today, we ask that you wear a facemask and use hand sanitizer that will be located at the Welcome Center. If you do not have a facemask, one will be provided to use, and then you may return it at the end of the service, where it will be laundered for next week's service. Please maintain social distancing while in the church and on church grounds.
Barb Keil, RN is the Parish Nurse for OSLC. She can be reached at 408-4114, at bkeil4514@gmail.com, or you may leave a message with the church office or her mail box in the Fellowship Hall.
Remember that you are invited to borrow a hymnal from church for use in your own times of devotion and worship. Just sign them out on the sheets on the table.
Lorene Bruntzel has been busy making face masks, and she has graciously provided a box of them for the church! The masks are available in the church's fellowship hall, on the same table as the hymnals. Just be sure to wash them before use.
I ask you to remember to continue to support our church as you are able. Although we haven't been able to gather like we are used to doing, the expenses and needs of the church go on. Your support makes this ministry possible. As we continue to navigate these unprecedented waters, please continue to be safe. Please remember that God is with us.
The Semi-Annual Congregational Meeting will be Sunday, July 26 after worship in the Worship Center. All Committee and Council member reports are due into the church office no later than noon on Wednesday, July 8. There will not be a potluck brunch due to COVID precautions. The reports will be available to pick up by Friday, July 17 at noon.
In July, we are collecting items for "Christmas in July" for Doorstep. A table is available in the concourse to place items that will be given to over 260 families next December. Please prayerfully consider helping those less fortunate here in Topeka. A flier of items that are needed is located inside this bulletin. The church is open Monday through Thursday from 9 to 4 pm for you to drop off your donations. Your help is appreciated more than you know!
June 28, 2020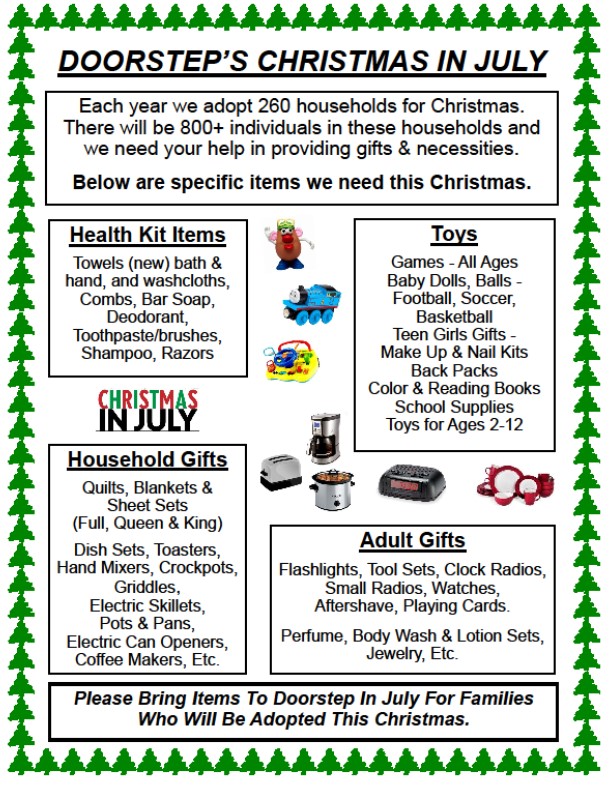 ---
June 14, 2020
As we approach the twentieth anniversary of our full communion agreement, "Called to Common Mission," we give thanks to God for the partnership we share with The Episcopal Church. In the coming months, we will pray for and with one another, seeking spiritual renewal in these challenging times, and revival for the common mission we share.
From Pentecost Sunday through the first Sunday in September, Presiding Bishop Elizabeth Eaton and her Episcopal counterpart Presiding Bishop Michael Curry welcome congregations and individuals to regularly pray "A Prayer for the Power of the Spirit Among the People of God." This prayer – crafted by a team of Lutheran and
Episcopal prayer leaders in light of the COVID-19 pandemic – will connect us in common prayer and revive us for common mission, wherever and however we may be gathered.
Congregations might wish to incorporate the prayer into worship following the Prayer of the Day, as part of the Prayers of Intercession, or at the conclusion of worship before the Blessings or Dismissal. Individuals may pray it anytime as part of their own personal prayer discipline. Please feel free to print, publish, post, and share it widely.
At Pentecost, we celebrate the power of the Holy Spirit. In our diversity, we are united through God's presence among us. We are amazed and astonished. United in Christ, and joined by common prayer, the Advocate calls and sends us out in common mission. Come, Holy Spirit.
A Prayer for the Power of the Spirit among the People of God
God of all power and love, we give thanks for your unfailing presence and the hope you provide in times of uncertainty and loss. Send your Holy Spirit to enkindle in us your holy fire. Revive us to live as Christ's body in the world: a people who pray, worship, learn, break bread, share life, heal neighbors, bear good news, seek justice, rest and grow in the Spirit. Wherever and however we gather, unite us in common prayer and send us in common mission, that we and the whole creation might be restored and renewed, through Jesus Christ our Lord. Amen.
---
June 7, 2020
Remember that you are invited to borrow a hymnal from church for use in your own times of devotion and worship. Hymnals are available on one of the tables near the entrance to the fellowship hall. Just stop by and sign one (or more than one) out! Alternately, you may call Pastor Jim and he will drop one off at your home. If you live in a facility where access may be restricted, please check and make sure that a hymnal may be dropped off for you.
Lorene Bruntzel has been busy making face masks, and she has graciously provided a box of them for the church! The masks are available in the church's fellowship hall, on the same table as the hymnals. Stop by and pick some up at your leisure (you might want to call ahead if you don't have a key and let us know that you're coming). Alternately, if you don't want or are unable to go out, you can call the office and Pastor Jim would be happy to deliver some masks to your home. Just let us know! And a big thank you to Lorene for providing this wonderful service for our congregation! One final note: Lorene says to be sure and launder the masks before using.
Pat Dunavan has placed several Thrivent T-shirts in the Fellowship Hall. They were provided through a Thrivent Action Team Grant. If you would like one, please feel free to pick one up next time you are at the church. They are available in assorted sizes.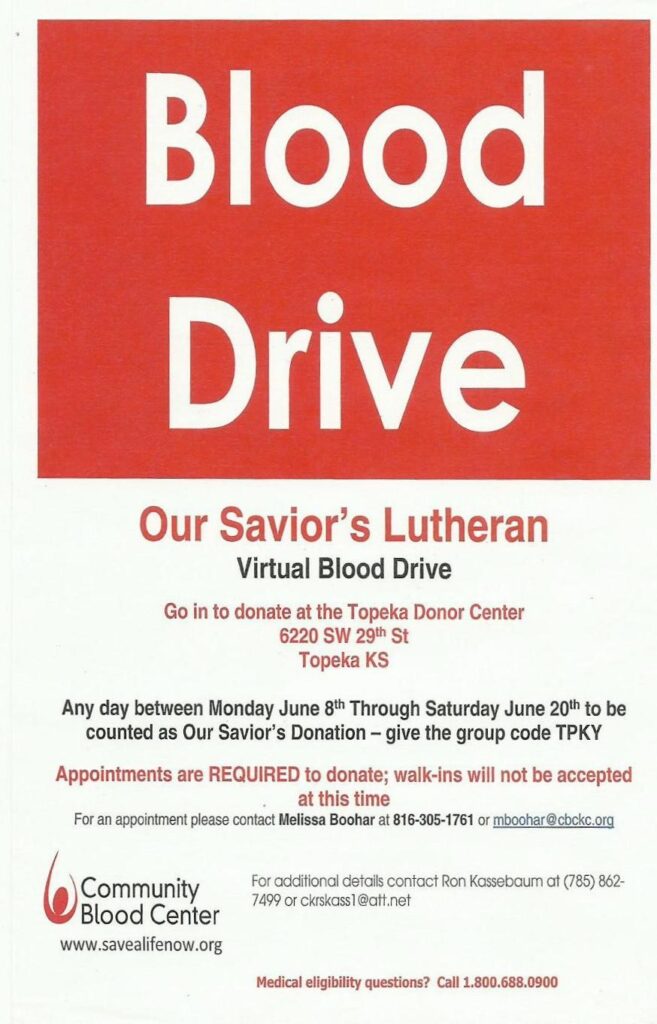 ---
May 11, 2020
Our Savior's plan for gradual opening of our physical facility throughout Shawnee County's Safer at Home Order.
"Beloved, let us love one another, because love is from God; everyone who loves is born of God and knows God." 1 John 4:7
Gracious God, help us to fulfill your will as we move forward in these times. Above all, may all that we do be done out of love for you and our neighbor. Guide us in all our plans and give us what we'll need to stay safe and take care of one another. We ask for all these things in your Son's name.
Amen.