Worship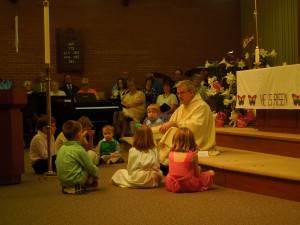 Worship Service Times Saturday Evenings at 5:00 pm Sunday Mornings at 9:00 am
The second Saturday and Sunday of each month features a contemporary service led by New Dimensions.
NEW Children's Church for Pre-K – 5th grade –
Children's Church will occur during the Sunday Service.
Children will listen to the children's sermon in church and then be excused to go as a group for their lesson (about
20 minutes) and then they will return to the sanctuary at the passing of the peace (for
communion and the remainder of the service.) This replaces their class previously
held after church.
Sunday school for confirmation students, high school
students and adults will remain from 10:30-11:30 am.
Fellowship Time
Immediately following both services.
Sunday School
10:30 am each Sunday September 17th through May.  For more information see Education.
Adult Sunday School
10:30 am each Sunday. For more information see Education.
Lent Season- Come Home
Lenten Prayer Cross
Starting Ash Wednesday, you will have the opportunity to make use of our Lenten Prayer Cross! Look for it in the worship center.
This special cross will provide you the opportunity to make prayer requests. To make a prayer request, simply take a paper cross
from the basket at the foot of the cross, write your prayer request on the back, then stick your cross on one of the nails in the prayer
cross. Each week at church we will be praying for all the prayer requests on the cross and they will be remembered by Pastor Jim in
his personal prayer as well.
Lenten Soup Suppers and Evening Prayer
You are invited to a special time of fellowship and prayerful reflection and worship on the Wednesdays of Lent. Beginning Mar. 13,
we will gather for a simple meal of soup and bread starting at 5:30 pm, followed by Lenten Evening Prayer at 6:15 pm. The theme
for Lenten Evening Prayer this year is "Five Calls of Lent" and is based on the writings of Henri Nouwen. The weekly themes are as
follows:
Mar. 13: Called to Silence
Mar. 20: Called to Acceptance
Mar. 27: Called to Hope
Apr. 3: Called to Compassion
Apr. 10: Called to Revolution
A sign-up sheet is available at the Welcome Center if you would care to sign up to bring soup. We hope you will come!
Mid-week Lenten Offerings for God's Global Barnyard
This year our mid-week Lenten offerings have been designated to go towards the ELCA Global Good Gifts program to fight world hunger. The Global Good Gifts program provides education, training and resources to support those receiving the gifts while holding administrative costs to less than ten percent. Each week we will collect for the purchase of different animals for God's Global Barnyard.
Mar. 6: Fish Farm $250 each
Mar. 13: Chicks $10 per set
Mar. 20: Pigs $30 each
Mar. 27: Honey Bees $20 per hive
Apr. 3: Sheep $125 each
Apr. 10: Goats $50 each
Apr. 17: Cows $500 each
Loving God, in this season of Lent, you invite us to reflect on our need for your grace as we long for the Easter to come. As you walk
with us this season, grant us courage to work together for a just world in which all are fed, and grant us hope in your promises for
today and for the world to come. In the name of Jesus Christ, our crucified and risen Savior. Amen.
Planning Ahead for Holy Week
Here are some dates and times to help you plan ahead for Holy Week!
Apr. 13/14 Palm Sunday, worship at 5 pm Saturday and 9 am Sunday
Apr. 18 Maundy Thursday, worship at 7 pm
Apr. 19 Good Friday, worship at 7 pm
Apr. 20 Easter Vigil, worship at 7 pm
Apr. 21 Easter Sunday, worship at 8 am and 10 am
Worship Committee will meet on the second Tuesday of each month at 6 pm at the church. New members are always welcome! Contact JoLana Pinon with questions.