Worship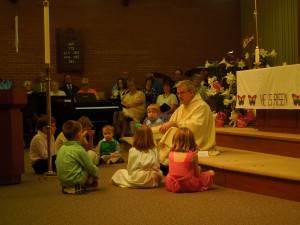 Worship Service Times Saturday Evenings at 5:00 pm Sunday Mornings at 9:00 am
The second Saturday and Sunday of each month features a contemporary service led by New Dimensions.
Children's Church for Pre-K – 5th grade –
Children's Church will occur during the Sunday Service.
Children will listen to the children's sermon in church and then be excused to go as a group for their lesson (about
20 minutes) and then they will return to the sanctuary at the passing of the peace (for
communion and the remainder of the service.) This replaces their class previously
held after church.
Sunday school for confirmation students, high school
students and adults will remain from 10:30-11:30 am.
Fellowship Time
Immediately following both services.
Sunday School
10:30 am each Sunday September 17th through May.  For more information see Education.
Adult Sunday School
10:30 am each Sunday. For more information see Education.
Worship Committee will meet on the second Tuesday of each month at 6 pm at the church. New members are always welcome! Contact JoLana Pinon with questions.
Prayer Cross
Throughout the Lenten season you will have the opportunity to make use of our Lenten Prayer Cross!  Look for it in the worship center.  This special cross will provide you the opportunity to make prayer requests.  To make a prayer request, simply take a paper cross from the basket at the foot of the cross, write your prayer request on the back, then stick your cross on one of the nails in the prayer cross.  Each week at church we will be praying for all the prayer requests on the cross and they will be remembered by Pastor Jim in his personal prayer as well.
Wednesday Lenten Soup Suppers and Evening Prayer Services
Make your Lent come alive by attending Wednesday Lenten Soup Suppers and Lenten Evening Prayer!  This year's theme is "Gifts of Hope and Salvation," and will feature an invitation to reflect on the many ways that God's salvation touches us.  The services will use scripture from the Easter Vigil and also a dramatic reading each week.  We'll also be using "Behold Our Light," the wonderful service of sung evening prayer that we have used the last two years.
The schedule for Lenten Evening Prayer is as follows:
March 4:  Creation (Genesis 1:1-2:4a)
March 11:  The Flood (Genesis 7:1-5, 11-18, 8:6-18; 9:8-13)
March 18:  The Testing of Abraham (Genesis 22:1-18)
March 25:  Israel's Deliverance (Exodus 14:10-31; 15:20-21)
April 1:  The Valley of Dry Bones (Ezekiel 37:1-14).
Soup will be served starting at 5:30 pm each Wednesday, with Evening Prayer following at 6:15 pm.  Don't forget to sign up to bring some soup, if you can!