Worship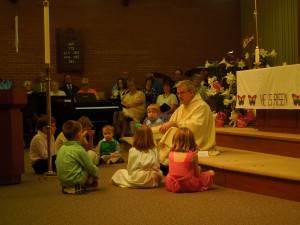 Worship Service Times Saturday Evenings at 5:00 pm Sunday Mornings at 9:00 am
The second Saturday and Sunday of each month features a contemporary service led by New Dimensions.
Christmas Eve Service
You are invited to Our Savior's to celebrate Christmas Eve, Tuesday, December 24 at 6 pm! The worship that night will include special music, the Christmas scriptures, Holy Communion, candlelight and a special Christmas message from Pastor Jim. We hope you will join us!
Children's Church for Pre-K – 5th grade –
Children's Church will occur during the Sunday Service.
Children will listen to the children's sermon in church and then be excused to go as a group for their lesson (about
20 minutes) and then they will return to the sanctuary at the passing of the peace (for
communion and the remainder of the service.) This replaces their class previously
held after church.
Sunday school for confirmation students, high school
students and adults will remain from 10:30-11:30 am.
Fellowship Time
Immediately following both services.
Sunday School
10:30 am each Sunday September 17th through May.  For more information see Education.
Adult Sunday School
10:30 am each Sunday. For more information see Education.
Worship Committee will meet on the second Tuesday of each month at 6 pm at the church. New members are always welcome! Contact JoLana Pinon with questions.