Worship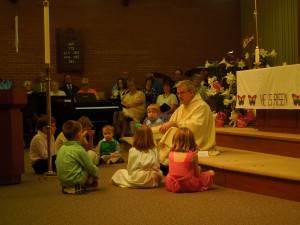 We began in person worship again on July 5th. We will continue offering online worship services as well.
Please see our Video Service page where you can find all past and upcoming services. Each pre-recorded service will go live on our youtube channel each Sunday morning at 9:00 am, but you are welcome to re-watch it anytime after it previews. See our reopening plan under our Announcements page.
Worship Service Times Saturday Evenings at 5:00 pm Sunday Mornings at 9:00 am
The second Saturday and Sunday of each month features a contemporary service led by New Dimensions.
Children's Church for Pre-K – 5th grade –
Children's Church will occur during the Sunday Service September-May with allowing the volunteers time off during the Summer.
Children will listen to the children's sermon in church and then be excused to go as a group for their lesson (about
20 minutes) and then they will return to the sanctuary at the passing of the peace (for
communion and the remainder of the service.) This replaces their class previously
held after church.
Sunday school for confirmation students, high school
students and adults will remain from 10:30-11:30 am.
Fellowship Time
*Fellowship time will be not held until it is safely to do *
Sunday School
10:30 am each Sunday September 20th through May.  For more information see Education.
Adult Sunday School
10:30 am each Sunday. For more information see Education.
Worship Committee will meet on the second Tuesday of each month at 6 pm at the church. New members are always welcome! Contact JoLana Pinon with questions.